[공지] 신컴엔터테인먼트 사무실 이전 안내 신컴엔터테인먼트와 라이브웍스컴퍼니가 2015년 4월7일로 한남동에서 상암동으로 사무실을 이전하게 되었습니다. 새로운 사무실 주소는 아래와 같으며 앞으로도 변함없는 사랑과 관심 부탁드립니다. 감사합니다.

[변경 주소] 서울 마포구 성암로 189 중소기업 DMC타워 804호 (우편번호) 121-904 804 Kbiz DMC Tower, 189, Seongam-ro, Mapo-gu, Seoul, Korea
[Notice] ShinCom Entertainment office relocation notice
ShinCom Entertainment and Liveworks Company has moved from Hannam-dong to Sangam-dong from 7 April.
The new address for the office is as below
and we ask for your unchanging love and support in future.
Thank you.
서울 마포구 성암로 189 중소기업 DMC타워 804호 (우편번호) 121-904
804 Kbiz DMC Tower, 189, Seongam-ro, Mapo-gu
121-904
Seoul, Korea
[Pengumuman] Pengumuman kepindahan kantor ShinCom Entertainment
ShinCom Entertainment dan Liveworks Company telah pindah dari Hannam-dong ke Sangam-dong mulai 7 April.
Alamat baru untuk kantor baru ada di bawah ini.
dan kami meminta cinta dan dukungan kalian yang tak berubah di masa depan.
Terima kasih.
[CONCERT] 2015 SHINHWA 17TH ANNIVERSARY CONCERT WE in SHANGHAI & TAIPEI *투어지역이 확정되면 추가적으로 업데이트 예정입니다. http://www.shinhwacompany.co.kr/concert/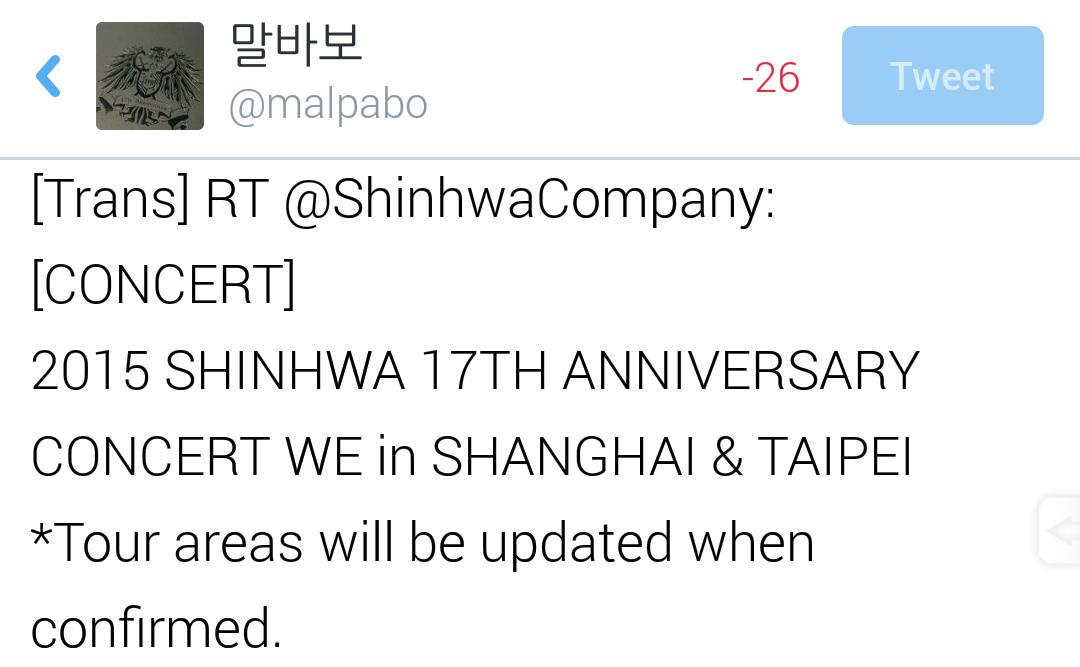 [NOTICE][DVD] SHINHWA 12th ALBUM – XII "WE" PRODUCTION DVD http://www.shinhwacompany.co.kr/dvd/index.html 

[NOTICE][DVD] SHINHWA 12th ALBUM – XII "WE" PRODUCTION DVD http://youtu.be/WC4HZ8N7eV0 
[NOTICE] SHINHWA Constellation Stamps (신화, 탄생 별자리 모티브 우표) 인터파크 사전예약 2015.04.22 (수) 서울 중앙우체국 정식 발매 2015.05.04 (월)
Shinhwa Constellation Stamp Interpark presales 2015.04.22 (Wed) Seoul Central post office sale 2015.05.04 (Mon)
Perangko Konstelasi Shinhwa. Interpark pre-sales 2015.04.22 (Rabu). Penjualan di Kantor Pos Pusat Seoul. 2015.05.04 (Senin)
Credit: @ShinhwaCompany + malpabo (eng)