1.
Fans: shooting shooting shooting bang
DW: (bagian Hyesung di Sniper) If I lose you~ An endless~ darkness will come again~!! pic.twitter.com/nIbHdPpZjz

2.
Fan: Oppa. Seeing Alright perf, I think oppa dances better than Hyesung oppa haha

DW: You only realised that now?
Fans: Oppa. Menonton performance Alright, menurutku oppa menari dengan lebih baik dibandingkan Hyesung oppa haha
DW: Kamu baru sadar sekarang?
3.
fan: dongwan oppa, what role do you play in Sniper?
Dongwan: Chef
Fans: Dongwan oppa, peran apa yang kau mainkan di Sniper?
DW: Koki
4.
fan: oppa, why have overseas fans received the LE but not us, krn fans? dongwan: D*L is the fastest in the world~
Fans: Oppa kenapa fans internasional sudah menerima LE tapi kami, fans Korea, belum?
DW: DHL adalah yang tercepat di dunia~
5.
Fan: Since you've learnt English, speak only in English! Want to practice together?

Dongwan: First learn to write in formal speech 

Fan: Sorry..don't be angry

Dongwan: Study Korean too
Fans: Karena kamu belajar bahasa Inggris, hanya bicara dalam bahasa Inggris saja! Mau latihan berama?
Dongwan: Pertama, belajarlah menulis di bahasa formal
Fans: Maaf…jangan marah
Dongwan: Belajar bahasa Korea juga
6.
Fan: Kim Netizen oppa who leaves comments kekeke I had an appendix surgery and admitted into the hospital so I wasn't even able apply for live broadcasts T_T I want to go live broadcasts too T_T I want to see Sniper stage in reality T_T

DW: Contact me when you fart
Fans: Netizen Kim oppa yang suka menulis komen kekeke Aku habis operasi usus buntu dan harus diopname jadi aku bahkan tidak bisa mendaftar untuk nonton program tv T_T Aku juga ingin pergi nonton program tv T_T Aku ingin melihat panggung Sniper di realita T_T
DW: Telpon aku kalau kamu sudah bisa kentut
7.
Fan asks Dongwan to recommend a good ski resort

Dongwan: I should be the only one going to a good ski resort. Not telling u
Fans meminta Dongwan untuk merekomendasikan ski resor yang bagus
DW: Cuma aku yang boleh pergi ke ski resor bagus. Gak bakal kasih tahu kamu.
8.
Fan: Oppa, do fly your helicam during the concert n film us prettily Dongwan: It can't be flown indoors. It's dangerous.
Fans: Oppa, tolong terbangkan helicammu waktu konser dan syuting kami dengan cantik
DW: Tidak bisa diterbangkan di dalam ruangan. Bahaya.

9.
Fans: Oppa helicam vid is rly cool! Writing on the floor in sniper is rly sexy!

DW: The last show, I'll write with a broom
Fans: Oppa, video helicam sangat keren!! Menulis di lantai dalam performance Sniper juga sangat seksi!!
KDW: Untuk goodbye stage, aku bakal nulis pakai sapu
10.
Fan: pls fly me together with the helicam

Dongwan: wait till u lose 50kg 1st
Fans: terbangkan aku bersama dengan helicamnya
DW: Aku tunggu sampai kamu turun 50kg dulu
11.
Fan: Why are you so good-looking recently?

Dongwan: I have always been good-looking
Fans: Kenapa kamu ganteng banget belakangan ini?
DW: Dari dulu aku sudah ganteng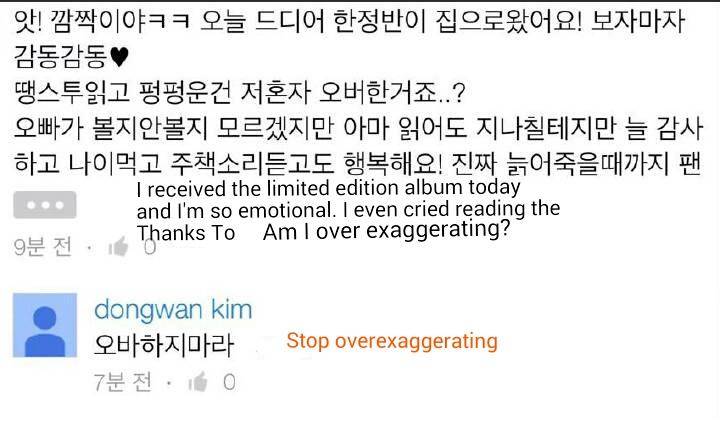 12.
Fans: Aku menerima album LE hari ini dan aku merasa sangat emosional. Aku bahkan menangis membaca bagian Thanks To. Apa aku berlebihan?
DW: Jangan lebay.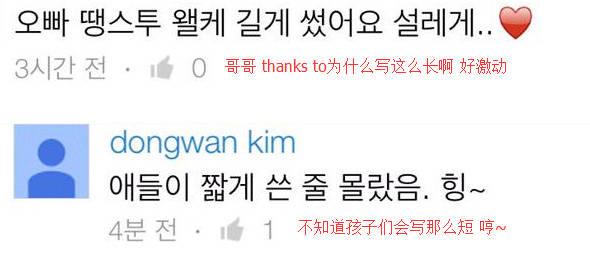 13.
Fan: Why is your Thanks To so long?

Dongwan: I didn't know those kids would write so little. Er~
Fans: Kenapa Thanks To-mu panjang sekali?
DW: Aku tidak tahu anak-anak itu bakal nulis sesedikit itu. Er~
Eng Translation credit: hearts_shinhwa + yoogamin + malpabo